One of the best couples games you can play in your relationship is one that will keep your love life alive with great sex ideas. It's simple to play but this sex game takes a very long time to play. In fact, you never really want the game to end. In this game, nobody ever loses but you both win every time. Want to know what this great sex game is?
There isn't actually an official name so you can make up your own such as Frisky Firsts, Secret Sensual Surprises, Naughty News or Pleasure Treasures. The objective of this love building game is to discover new sex tips or foreplay ideas to try together. You want to make as many erotic memories together as possible. Take turns if desired although its best if you're both always on the look out for new erotic ideas or techniques to explore. You can even create a sexual scrapbook or lovemaking diary to help record your new experiences together.
In the spirit of the game, take a look at the video below. You'll discover how to unleash your erotic creativity and give your lover exquisite sensual pleasure. Using a few soft artist or calligraphy brushes, you'll learn how to stimulate erogenous zones so they tingle in anticipation of your touch. Tease and tantalize your partner until they beg for orgasmic release. The Butterfly Tease is a powerful foreplay technique based on an ancient Chinese love game. Play the game with your lover and start finding new ways to spice up your lovemaking today. You'll become a sensation in your bedroom tonight.
For more written information, see the Frisky Foreplay article Brush With Bliss.
Also check out "Sexational Secrets – The Ultimate Guide for Erotic Know How" by Susan Crain Bakos. You'll discover how to increase your pleasure and enjoy more intense orgasms with your partner. The Butterfly Tease is just one of many amazing lovemaking ideas for couples revealed in her book.
Once you've found a sexy new activity to try, you could just spring it on your partner while you're in bed together. Or, you could make it more special by sending them a romantic invitation or giving them a love coupon. We've created a special app called Pleasure Promise Notes for just that purpose. Here's a sample invitation style love note created with the app: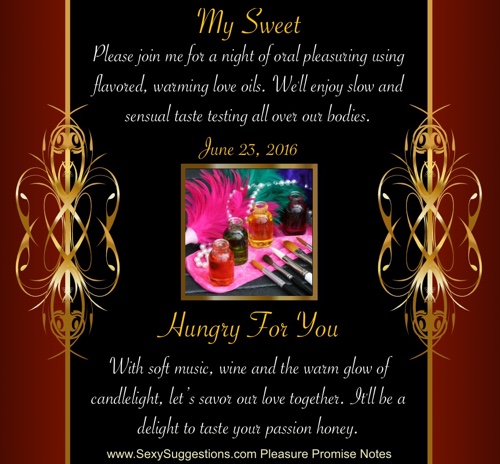 The app comes with lots of sample sex coupons and love notes that you can send as is or modify as desired. To add an element of mystery, you can send a gold pleasure ticket with your message encoded. Click on the link below to find out more.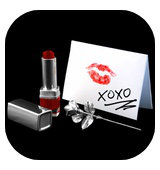 Available Now!
Spicy Dares & Desires on the iPhone, iPad, Apple TV
Download your copy today
We've also created an app called iLoveRandomSex with hundreds of foreplay and sex play ideas to enjoy. It's designed so you can customize it with your own ideas in various categories. When you come across something naughty and new to try, just enter it into the app. Then when you're in the mood, use the randomizer to have it choose something fun to enjoy.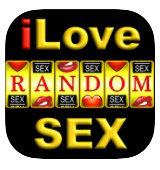 Available Now!
iLove Random Sex on the iPhone (works on iPad too)
Download your copy today
Click on the app icon or the download link to visit the app store and see more of the screenshots and feature details. Check out the apps and find out how they can improve your love life with more creative and better sex ideas.
Remember, playing any game together with your partner is time well spent. Couples games involving sensual pleasure just make it even more fun. Please leave a comment and let me know how you liked the video and the foreplay tip. Get yourself some artist brushes and experience a truly incredible sensual pleasure tonight. It's an erotic treat both you and your partner are sure to enjoy.