One of the easiest and best ways to spice up your lovemaking is to add a bit of randomness. That's why sexy dirty dice are so popular. They're simple and you get lucky with every roll of the dice. Even though you've done most of the foreplay combinations before, not knowing what to expect next is part of the fun. However, you're most likely looking for even more creative sex ideas to play with that can't easily fit on the love dice. Companies are making lots of different types of sex dice including ones for oral, anal, bondage and S/M. There are even sets with 5 or more dice but the combinations start to get crazy. You can easily make your own sexy dice with your own foreplay ideas.
In the following video you'll discover how you can spice up your sex life with just a few regular dice. With a bit of creativity, you can use random sex ideas to make your lovemaking more fun. You can make up own couples games using your custom designed dirty dice so the activities match exactly what you want in bed. Mix in a few sex ideas you secretly desire. You can even modify the rules of regular games involving dice and transform them into playful foreplay opportunities.
For more information see the blog post Make Your Own Frisky Foreplay Dice to Spice Up Your Lovemaking. Here is an erotic dice template that you can download as a PDF, fill in and print:

Erotic Dice Template
Foreplay Ideas for Your Dirty Dice
The erotic dice template linked above is blank so you can fill in any set of 36 foreplay ideas you desire. You can even create his and her or warm and hot versions. Don't take a look at 69 Foreplay Ideas to Make Your Own Couples Games before trying to come up with your own first. But, to get your creative juices flowing, here is a sample to pique your interest and inspire your erotic imagination:
Lightly stroke your lover's face, lips, neck and ears with your finger tips
Caress, kiss and lick up and back down your lover's legs
Tickle the back of your partner's knee with the tip of your tongue
Take your lover's thumb in your mouth and caress it with your tongue
Warm your lover's nipple in your mouth then suck in cool air around it
Read a short passage from an erotic novel aloud in a sexy voice
Tickle the back of your lover's neck with the tip of your tongue
Lick and suck each finger on one of your lover's hand
Seductively describe in detail how you want to ravish your lover later
Use an artist brush to swirl flavored lube on your lover's nipples
If you're stuck for fun and sexy ideas to spice up your relationship, we've collected a number of our bedroom games in our first book:

Sex Games & Foreplay Ideas For Couples: Be Naughty Play Dirty Together
We've also created an app called iLoveRandomSex with hundreds of foreplay and sex play ideas to enjoy randomly. It's designed so you can customize it with your own ideas in various categories. Here is a screenshot of the Fantastic Foreplay view. The Carnal Commander feature performs a text to speech synthesis which adds a slightly kinky element. Being told what to do adds a fun twist.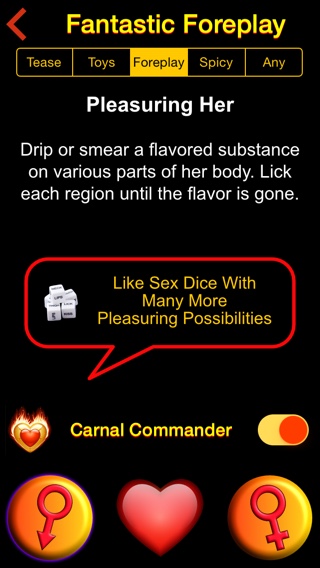 Click on the app icon or the download link to visit the app store and see more of the screenshots and feature details. Even if you decide to make your own dirty sex dice, check out the app and find out how it can improve your love life with creatively random sex.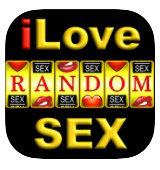 Available Now!
iLove Random Sex on the iPhone (works on iPad too)
Download your copy today
Remember, playing any game together with your partner is time well spent. Couples games involving sensual pleasure just make it even more fun. Please leave a comment with any sexy dice games you like to play with your partner. What kinds of frisky foreplay ideas would you include on your erotic dice list?