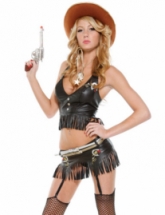 Maybe you played cowboys and Indians as a kid or you're fascinated by wild western movies with sexy movie stars. Maybe there's something about the wilderness setting, the rugged characters, the clothing, the hot blooded conflict or the frontier attitudes that turns you on. Either way, cowboy, cowgirl and native Indian costumes can be used in a broad range of erotic dress up games for couples. While watching a western movie with your partner, take some time to discuss any fantasies you might like to act out.
Article moved to Cowboys and Indians – Roleplay Western Sexual Fantasies
Wicked Temptations has a great collection of sexy costumes to choose from. Order a few for Halloween and use them later for to role play a few sexual fantasies.