Here are some more wickedly fun sexual fantasies and ideas for erotic role-play games you can use to spice up your adult play. Use these juicy sex scenarios to whet your desire and stimulate your erotic imagination. In your naughty role-play games, you can enjoy pretend affairs and play dirty together without cheating. You can be anyone and do anyone any where any time.
Each of the following sexual role-play scenarios are sections in our book 123 Frisky Sexual Fantasies & Erotic Role-play Ideas: Dare to Play Naughty Sexy Scenarios for Couples.
It's available from Amazon as a paperback or via instant download onto your Kindle. It's intended for couples who want to play naughty in and out of the bedroom.
See Frisky Sexual Fantasies and Erotic Bedroom Roleplay Games for Couples for the first part of this article.
Frisky Business
Having sex at work is a popular fantasy. Whether it's the sexy office attire, uniforms, power dynamics, customer satisfaction or the forbidden nature of the work place, there's lots to fantasize about. Certain types of jobs just naturally provide opportunities for erotic stress relief in the form of a thrilling quickie. In other jobs, there may be creative ways to get a head if your pretend boss is up for it. Maybe you're showing a new employee the ropes as you explain the ins and outs of the job after hours. You can stick with traditional male female roles or mix it up as you play in all kinds of positions.
Maids, Masters & Mistresses
Who doesn't think the French Maid outfit is sexy. Will you be the maid, master or mistress in a Victorian style mansion or an estate in the old South? Or, in your fantasy, maybe the butler did it.
Erotic Photography
Put your digital camera to use and become the focus of attention. Seduce the model with compliments as you encourage them to reveal everything for the camera. They'll become increasingly provocative with an almost submissive desire to please. See if you can capture the perfect head shot.
Staged Sex Scenes
Still photos are great but with a video camera you can capture all the action and even add your own special effects. You can become the director and star of your own porn movie or sex toy commercial. Or, imagine performing in a live sex show on stage in front of a pretend audience.
Like a Virgin
Become a born again virgin and role-play your first time together. Embellish or alter actual events if required. Recapture the thrill of first time sex over and over again. Or make it even more exotic by enacting a ritualistic deflowering ceremony. Your prized virginity can be rewarded to a hero, sold to the highest bidder or taken by a villain. There are many types of sexual firsts that you can enjoy in extra special ways.
Stranger Attraction
Although risky, the lure of hot and fast, no strings attached, anonymous sex can be very appealing. Your hot hookup can begin in a bar or other more interesting places. Imagine a chance meeting, public flirting, teasing and seduction followed by an intense quickie in the closest semi private spot you can find. How about a wild and passionate one night stand as strangers in a strange land while knowing exactly how to bring each other to orgasm.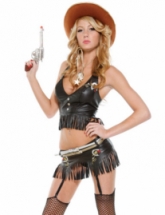 Wild Westerns
The rugged and hot blooded characters of wild western movies star in many fantasies as well. Cowboys, cowgirls, bandits, native indians, saloon girls, sheriffs, farmer's daughters and even lonely homesteader wives can all come out to play in your sexy scenarios.
Tantalizing Times
In your imagination, any time or place can be the playground for your erotic adventures. Your characters can come from history, science fiction or other fantasy realms. You can be a rebellious princess, powerful Sultan, obedient harem girl or sexy love goddess in ancient times. Or, imagine being an advanced sex robot, alien queen or space ship captain in the future.
Fairy Tale Fantasies
How about adding an erotic twist to some of the popular fairy tales. Dressing up in the costume of a favourite cartoon character can be sexy but it's even more fun when the hero really gets the girl. Or maybe the evil queen prevails and has her wicked way with the handsome prince or the princess. How would captain Hook star in your pirate fantasy?
Wanton Witches & Wizards
You can add some sexy magic to your role-play games with a witch or warlock theme. There are good, bad and wicked witches to play with. Will your sexual sorcery be sensual or kinky. Include some potions and exotic ingredients for a special witch's brew. Or creatively cast your lust spells with powerful vibrating wands. There are even electro-wands to add even more spark if you're feeling extra frisky.
Voracious Vampires
Add a bit of bite to your bedroom games and try roleplaying as a sexy vampire or willing victim. Experience the erotic pleasure of being predator or prey. Or, maybe you're the vampire hunter tracking the wicked beast to their lair. Make sure you're equipped with plenty of holy lube and special stakes to send the creature to heaven and back.
More Ways to Play
There are multiple ways to enhance your intimate play with these erotic story ideas besides acting them out. Each is written as a sexual role-play scenario but you can use them to start an intimate conversation, inspire a lust letter, encourage dirty talk or set the theme for a hot session of phone sex. There is a broad range of juicy scenarios to suit all types of fantasies and erotic desires. All the fantasy scenarios provide a plausible reason why the characters are about to have sex together but the ultimate climax to the story and how it plays out is up to you. Although dressing up is optional, you'll have a great excuse to get into costume, use your sex toys
and try out other kinky accessories too.
So, heat up your bedroom games and spice up your sex life today. Get our erotic role-play ideas book, pick a sexy fantasy scenario and dare your lover to play naughty with you tonight.