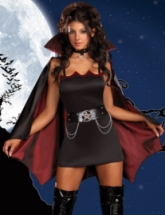 Dracula and all the creepy vampire variations have haunted and fascinated our imaginations for ages. The hypnotic power to seduce others with elegant charm and sophistication inspires our own desire for control and submission. We want to explore our secret fantasies and forbidden dreams – to experience that dark force that makes us do wild and wicked things to satisfy those urges.
Just imagine having the ability to make others submit to your will and satisfy your needs. To have the power to manipulate their thoughts and feelings so they crave your touch, your kiss, your bite … your love. They submit to your hunger and lust as they get overwhelmed by your persuasive passion.
Or be the helpless victim as your vampire lover takes possession of your mind and body. It knows your inner most secret desires and breaks down your inhibitions … you're powerless to resist its deviant and lascivious intentions. You beg for them to take you completely – to experience ultimate ecstasy as you submit to your own hunger.
Article moved to Vampire Seduction Sexual Fantasies
Wicked Temptations has a great collection of sexy costumes to choose from. Order a few for Halloween and use them later to role play a few sexual fantasies.