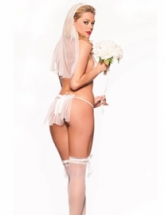 Virginity is a popular theme in many fantasies for both men and women. The mystique associated with taking someone's virginity can be very intense and emotional. You may have been taught to "save it" for that special person and make the moment extra special. The thought of being your partner's first lover can be exciting and nerve racking at the same time. You can recapture the thrill of first time sex and even rewrite your sexual history if you desire. One or both of you can roleplay as virgins in many different ways to spice up your bedroom games.
Article moved to Virgin Role Play Sexual Fantasies
Wicked Temptations has a great collection of sexy costumes to choose from. Order a few for Halloween and use them later to role play a few sexual fantasies.