In this video, you'll discover how you can use your cell phone to make your relationship sizzle with erotic intensity. Create a romantic game by flirting and teasing each other with sexy text messages. See how naughty you can be using digital foreplay to increase your desire for each other.
Frisky Foreplay Erotic Love Letters
Check out the bonus offer to get the Frisky Foreplay and Fooling Around games for free. Make your sex life even more wild, frisky and fun.
The script for the video is given below.
It doesn't matter how busy you are. A few quick text messages using your cell phone or instant messenger could transform your love life today. The technology has changed but our needs haven't. We still have the same feelings, emotions and thoughts about love, romance and passion. Why not satisfy your partner's needs and put a smile on their face. Seduce them with a Love Letter made up of erotic text messages and then get ready for the sexual sparks to fly.
By simply pushing a few buttons, you can let your partner instantly know how much you want them. You have the power to put the passion and romance back into your relationship any time of day or night. Think of it, a simple text message that stimulates burning desire … even lust for you. Engage your lover's imagination with sexy thoughts of what you want to do when you get together. Using seductive text messages, lead them into a private conversation to explore secret erotic fantasies. It's like mental foreplay that'll drive them wild. You'll even feel more comfortable "talking dirty" with each other.
See how to Text The Romance Back into your love life. Discover for yourself how to use tiny little text messages to bring the spark and electricity back into your relationship. It's great for both men and women – it's worked for thousands of couples around the world. With the right words you can create shivers of anticipation. Make your lover crave your touch and have them eagerly waiting to feel your body against theirs. Make your relationship more exciting today and get started using Erotic Love Notes to spice up your sex life.
Pleasure Promise Notes
Sending sexy text messages is great for interactive foreplay games from a distance. At other times, you want to send your erotic love letters and suggestive messages with a little more style. That's why we created our Pleasure Promise Notes app. Use various templates with different fonts and images to enhance the power of your love message. Make sex coupons or sexy invitations for your lover. You can send them by text message or email. These love coupons can even be printed and given as romantic rewards. A sample is shown below: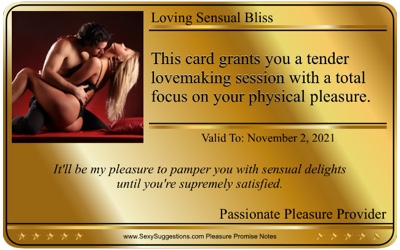 And if you want to add some mystery to your sexy message or keep it more secret, you can send a special ticket with a QRCode. The app can be used to scan these codes and reveal the love note you've sent.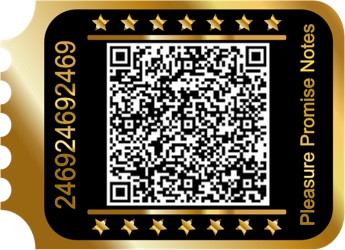 The Pleasure Promise Notes app comes with a large collection of pre-written love notes with romantic and sexy ideas. You can send them as is or customize them before sending. The app even tracks which ones you've sent and when they were redeemed. It's not intended to be an app you use every day but when the mood or need strikes, you'll love having a nice way to add more love to your relationship.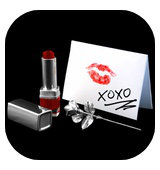 Available Now!
Pleasure Promise Notes on the iPhone and iPad
Download your copy today
Combine sexy text messages and pleasure promise notes to keep your love life exciting. They may seem like mental foreplay games but they are fun to play.