You may have played a naughty version of truth or dare when you were younger. It may have involved kissing your friends or maybe fondling each other in a closet during seven minutes in heaven. You can recapture that sense of erotic discovery and risqué playfulness as an adult too. Now you can play dirty truth or dare. Of course, you'll want to spice up your couples games of dirty truth or dare with more than necking and heavy petting. That's fun to start but you'll want to include lots of sensual foreplay and exciting sex play too.
Here is a video overview of a dirty truth or dare app that can be played by couples alone together or with a group of intimate friends. As you'll see in the video below, the app has over 3000 fun sex questions and dirty dares to give you lots of variety to play with. If you have two or more couples playing together, you can even keep the truth questions and sexy dares between couples or mix it up. There are even gay, lesbian and bi-sexual options to suit any preference.
Click on the link for more details: Dirty Truth or Dare App
The app is available for iPhone, iPad and Apple TV.
Sex Game App for Couples
Even if you're in a long term relationship, playing adult truth or dare with your lover is a great way to explore each other's desires and come up with fresh new sex ideas to try out. You can even test out the possibility of a threesome or more-some when you play with a small group of friends. Challenge your partner to spice up your sex life. Try the game and see how far you're both willing to get out of your sexual comfort zones. Let the game encourage you to release you inhibitions. Give yourself permission to let your wicked side come out to play. Surprise each other with hot sex talk and dirty deeds as you explore your erotic desires together.
Get the app right now and see what kinds of naughty sex play you're willing to try.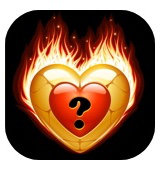 Available Now!
Spicy Dares & Desires on the iPhone, iPad, Apple TV
Download your copy today
You can play Spicy Dares and Desires as a drinking game or stripping game too.