I just finished watching the movie True True Lie
– a psychological thriller based around a very sexy Truth or Dare style party game. Of course bad things happen in the movie but the game looked like amazing fun for couples. It has potential as an erotic party game, a relationship game to help get to know each other or even as a foreplay game with intimate forfeits. This is one game you should add to your collection of couples games – you can play it any time or any where.
The basics of the game are fairly straight forward: one person tells three statements about themselves – two truthful and one lie in any order – and another player is selected to correctly identify which is the lie. If they guess wrong a forfeit must be paid. The movie had a scene with three women and three guys playing it as a strip game. In one very erotic scene, it was mentioned that they were in the sexual part of the game but did not elaborate on the subtleties of the rules. With the drinks and the hot seductive talk, wild sex was definitely the ultimate reward.
Let's explore some possible rules in more detail so that you can play this game yourself with your partner or a group of friends.
Players sit around a circle with men and women across from each other. Each round, randomly pair up two people with one designated as the speaker and the other the listener. In the movie, they spun a knife (yikes) but you may prefer a spin-the-bottle or spin-the-vibrator technique (a glass dildo works great too). The two people it lines up with are selected and the person pointed to tells their tales. This works when matching up couples but you may want to rotate the pairing when playing with a group of friends. If playing with just the two of you, alternate roles.
The True, True, Lie statements told need to be about yourself. Depending on how comfortable every one is, you may want to start with relatively tame tales leaving the juicy stuff until later in the game. The other players may laugh, giggle or even make encouraging comments but are not allowed to give anything away if they know the truth – you want to get everyone involved in the fun. Number the statements first, second, third as you say them so that supporting comments and discussion don't confuse things.
Agree on the specific forfeit before you start each round. You can set it up with just a penalty for not guessing the lie correctly or you can include a reward for getting it right. For example, make it a strip game. If you guess the lie correctly the player telling the tales removes an article of clothing otherwise you do. Later you can introduce sexy dares or sexual favors. Be sure to agree on the stakes first – your naughty negotiation encourages you to think and talk dirty which adds to the fun.
When telling your tales, your goal is to convince the other players that one of your truths is a lie while your lie is the truth. Be misleading and seductively devious in what and how you reveal things about yourself. I really liked the "I'm not wearing any panties" line in the movie. You can start with any topic naughty or nice but as you get more into the game, agree to switch the subject to a more sexual theme. Maybe agree on the subject matter for a certain number of rounds such as locations you've had sex, sex when you were younger, sexual preferences (techniques, positions, sex toys), wild sexual experiences, role play adventures, fantasies, etc. Or roll dice each round to choose a topic from a list.
Finish the game when ever you choose. There are no real winners or losers – having fun is the goal. However, if this game leads to frisky foreplay and wild sex, you all win.
One caution – when playing truth or dare type games, lying about the lies defeats the purpose of having fun. Revealing things about yourself can make you feel a little vulnerable but thrilling at the same time. Be selective in what you are willing to say especially in a new relationship – build up to more personal disclosures as you mutually discover more about each other.
Not all lies or truths can be verified easily but as seen in the movie, sometimes the proving part can be extremely erotic too. In general, you need to trust each other and go with the flow of the game. Pick rewards and forfeits you basically want to do anyway – the game is just giving you a good reason.
If you know of any rules that I have missed or have ideas for further improvements, please leave a comment for others to read. Opinions on the movie are also welcome.
Here are two other adult party games that will get you thinking and talking about sex and each other: I've Never Board Game Adult Version
and Deluxe Dirty Minds
– check them out.
Even if you're in a long term relationship, playing adult truth or dare with your lover is a great way to explore each other's desires and come up with fresh new sex ideas to try out. That's why we decided to create our own Dirty Truth or Dare app. Challenge your partner to spice up your sex life. Try the game and see how far you're both willing to get out of your sexual comfort zones. Let the game encourage you to release you inhibitions. Give yourself permission to let your wicked side come out to play. You'll surprise each other with hot sex talk and dirty deeds as you explore your erotic desires together.
Get the app right now and see what kinds of naughty sex play you're willing to try out tonight.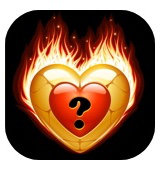 Available Now!
Spicy Dares & Desires on the iPhone, iPad, Apple TV
Download your copy today
You can play Spicy Dares and Desires as a drinking game or stripping game too.